Who Is Clayton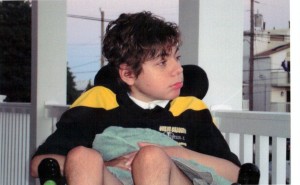 Clayton, the namesake and heart of our organization, was a typical little boy in October 2004.  He loved to play baseball, cook, cuddle and spend time with his family.  He contracted a virus, just a normal back to school virus, but in Clayton's case it went to his brain.  He went to bed on October 15, 2004 and would never be the same.  We checked in on him, since he had a fever earlier that evening and we found him lying motionless and drooling profusely. Within 24 hours he was on life support and placed in a medically induced coma (in hopes to have the seizures subside), which he remained in for 3 months.  After 5 months in the hospital enduring countless medications, brain surgery, a Gtube placed for eating and a trach for breathing – our little boy came home like an infant.  He was never able to walk, speak (although he did say "mom" a couple of times), eat or follow commands.  Although Clay's abilities were very limited, he was still able to throw a baseball and give you a grin that would melt your heart—he was fondly nicknamed "Clayton the Great.".His diagnosis was, ultimately, Epilepsy, and he could have in excess of 200 seizures a day – on "bad" days.  In 2012, the virus that began his journey, came back.  This time, though, his prognosis was very different and onAugust 4th he became an angel.
We told Clay the night that he became an  angel that he made more of a difference in his short lifetime, then most people  will ever do in their entire lives. He showed us the power of love, the  importance of family, the meaning of hope and the compassion of strangers. He  will be missed beyond measure; loved without limits and will always be a part of  our past, present and future.
Although Clay is not physically with us, his  legacy will continue through Clayton's Hope Organization. He, like so many  before him, have tragically lost their battle with Epilepsy – so until Epilepsy  does not take one more life, or effect the quality of lives, we will push  forward.
Clay was just like your son, grandson, nephew,  friend or neighbor – now he is an angel watching over us and guiding us. We are  blessed to have him looking down on us and are all better people for having him  in our lives.
Please remember him, the next time that you hear the word  Epilepsy, remember this video- but, mostly, remember that with the latest  statistics (1 in 100 people will develop Epilepsy) – Clay is not an exception –  Epilepsy is a reality
God's Garden
God looked around his garden
And found an empty place.
He then looked down upon the earth,
And saw your tired face.
He put His arms around you
And lifted you to rest.
God's garden must be beautiful,
He always takes the best.
He knew that you were suffering,
He knew that you were in pain.
He knew that you would never
Get well on earth again.
He saw the road was getting rough
And the hills were hard to climb.
So He closed your weary eyelids
And whispered "Peace be thine."
It broke our hearts to lose you
But you did not go alone…
For part of us went with you
The day God called you home.
Author Unknown